Crayola Crayon Wreath

Crayola crayons aren't just for colouring. The variety of colours and sizes of Crayola crayons provide for crafting ideas. Whether it's for the holidays or for everyday display, the Crayola Crayon Wreath is a perfect addition to use as a table centerpiece or to dress up your front door.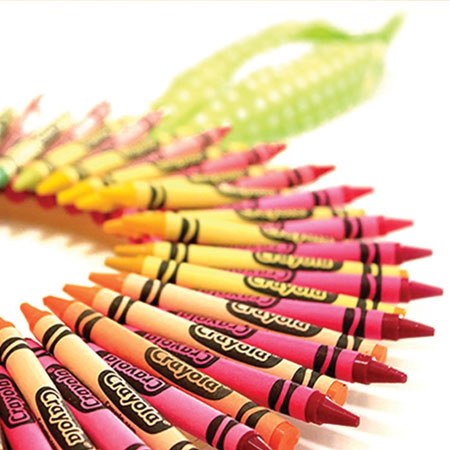 Supplies:
Crayola Crayons
Hot Glue Gun
Embroidery Hoops
Ribbon
CIY Staff Tips:
Steps:
Lay out the embroidery hoops on your work surface, placing the smaller hoop (without clasp) inside the larger one (with clasp) with an equal distance between all edges. Set the remaining two hoops aside. You won't need them for this craft.
Organize your Crayola Crayons in the order you wish to lay them on to the hoops.
Using a hot glue gun, place a dab of glue on each hoop where you'd like to place your first crayon. Make sure the Crayola logo is facing you (versus the back of the wreath) with the point of the crayon facing out.
Continue gluing the Crayola Crayons onto the hoops. You'll need to place the dabs of glue closer together on the smaller hoop than you will on the larger hoop to get the right effect. For example, you might place the dabs of glue 0.50-1 centimeter apart on the small hoop and 2-3 centimeters apart on the larger hoop.
After completing one full circle, begin a second circle, only this time, face the crayons inwards, again, with the Crayola logo facing upwards. Place one dab of glue on the serpentine closest to the crayon tip and place the second dab of glue on the area of the larger hoop where you plan to place the crayon. Then, carefully place the crayon onto the existing crayons (smaller hoop) and place it on the glue on the larger hoop. You'll notice there won't really be space for the crayon to touch the smaller hoop as close as the crayons are spaced.
Continue placing the crayons around the hoops to form a second complete circle.
To create a hanging loop, tie the ribbon to the clasp on the larger hoop.
Occasion:

National Crayon Day,

Rainy Day Crafts

Age:
---
Related Crafts