Supplies:
Crayola Scissors
Crayola Tempera Paint
Crayola Oil Pastels - 16 Count
Crayola Marker & Watercolour Paper - 22.9 cm x 30.5 cm (9" x 12")
Crayola Washable No-Run School Glue
Pencils
Tracing Paper
Textured Materials
Tag Manilla Paper or Recycled Cereal Boxes - 22.9 cm x 30.5 cm (9" x 12")
Plastic Tray or Placemat
Soft Paint Roller
Wooden Spoons
Recycled Newspapers
Steps: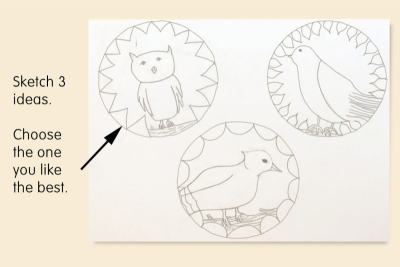 Sketch 3 thumbnail ideas.
- Use a circle for the main shape.
- Create a pattern of shapes evenly spaced around the outer edge of the circle.
- Draw a bird to fill the space.
Choose the one you like the best.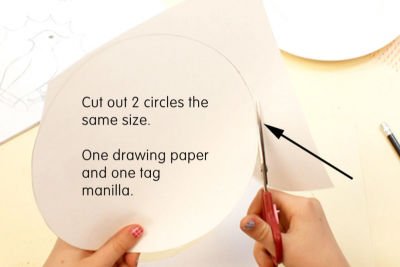 Cut out 2 circles the same size, 1 drawing paper and 1 tag manilla.
Save the tag manilla scraps.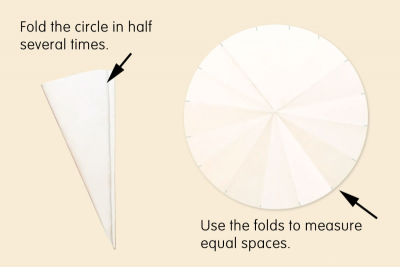 Fold the drawing paper circle in half, and in half again 3 or 4 times.
Open the paper.
Place it on top of the tag manilla circle.
Make a small mark around the circumference of the circle at each fold.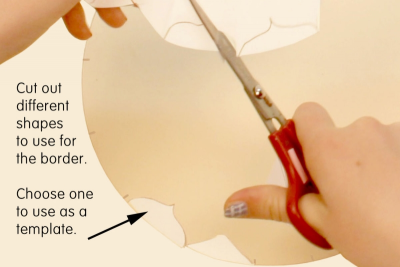 Cut out different shapes between the spaces on the folded drawing paper.
Place the shapes around the circle to see which border you prefer.
Choose the one you like best and use the shape as a template.
Trace it repeatedly around the outer edge of the circle using your marks as a guide for even spacing.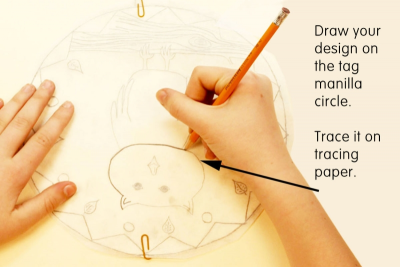 Draw your design on the tag manilla circle.
Place a piece of onionskin tracing paper on top of your design.
Trace the whole thing.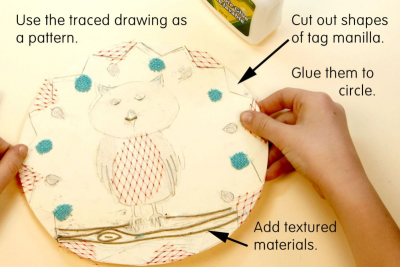 Cut out shapes of tag manill.
Glue them to the tag manilla circle.
Add textured materials too.
Keep adding details until you are satisfied with the effects.
Make sure everything is glued down well.
This is your collograph printing plate.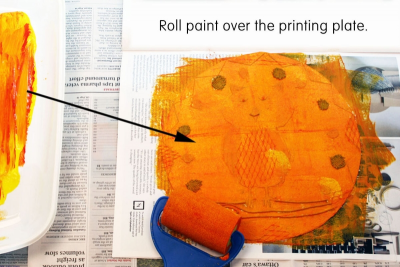 Place the printing plate on a page of an open magazine.
Use a soft roller to mix two primary colours of tempera paint together in a plastic tray.
Roll the paint over the surface of the printing plate.
Make sure to apply an even coat.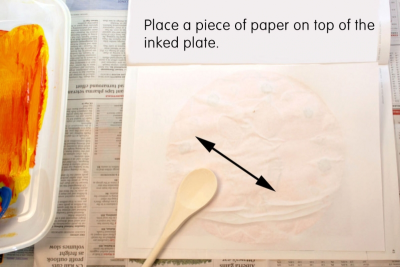 Carefully lift the inked plate off the magazine page.
Turn the page over to a new, clean page.
Carefully place the inked plate onto the new page.
Place a piece of paper on top of the inked plate.
Rub over the surface with your hand, then burnish it with a wooden spoon.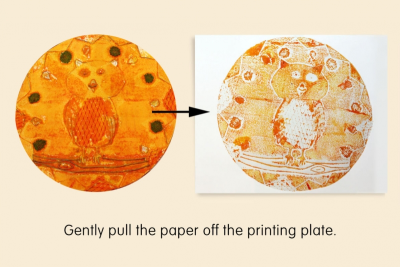 Gently pull the paper off the printing plate.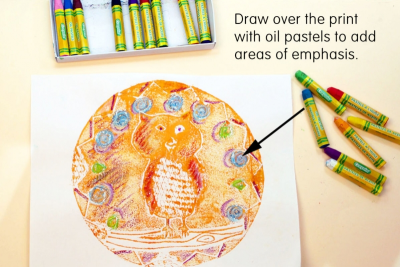 Once the prints are dry, draw over them with oil pastels to create areas of emphasis.
Subjects:

Language Arts,

Mathematics,

Science,

Visual Arts

Grades:
---
Related Lesson Plans